header("Pragma: no-cache"); header("Cache-Control: no-cache,must-revalidate"); ?>
innoBIM™
What is innoBIM™?
innoBIM™ is a platform to monitor and control facilities of buildings by matching real-time information such as Facilities / IoT sensor / Network / IP-Camera / Access Control with BIM objects after loading BIM data.
CPS implementation is also possible through field-specific solution development and integration.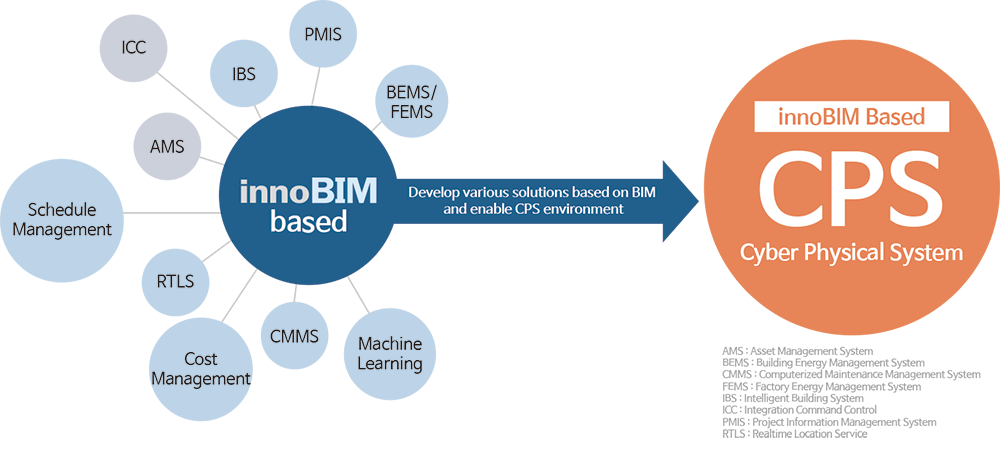 innoBIM™ Architecture
innoBIM™ has a structure that enables the integrated control by matching shapes and properties of various 3D tools to real-time data of facilities, and it is possible to develop various solutions based on BIM.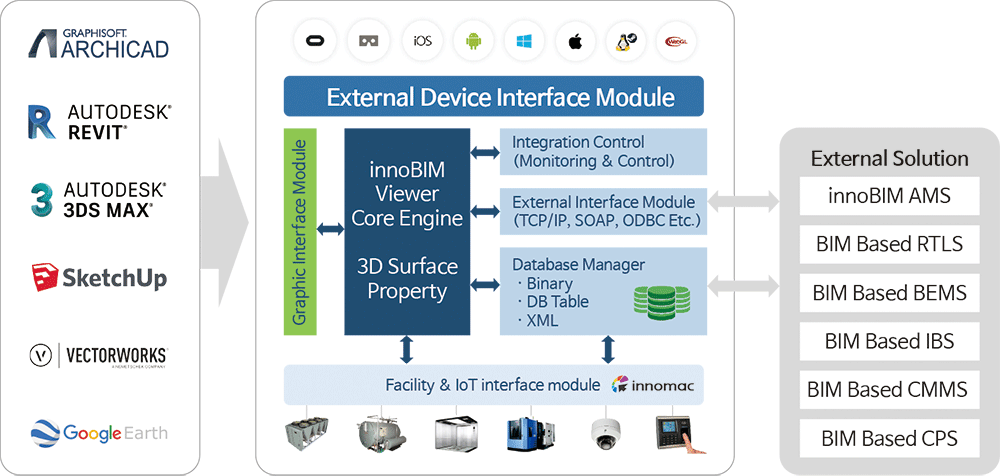 innoBIM™ Viewer
innoBIM™ Viewer is capable of processing large amounts of data in various 3D formats and can be used for reviewing of design model and for collaboration between processes or review of ordering company. It is customizable for customer's requirements.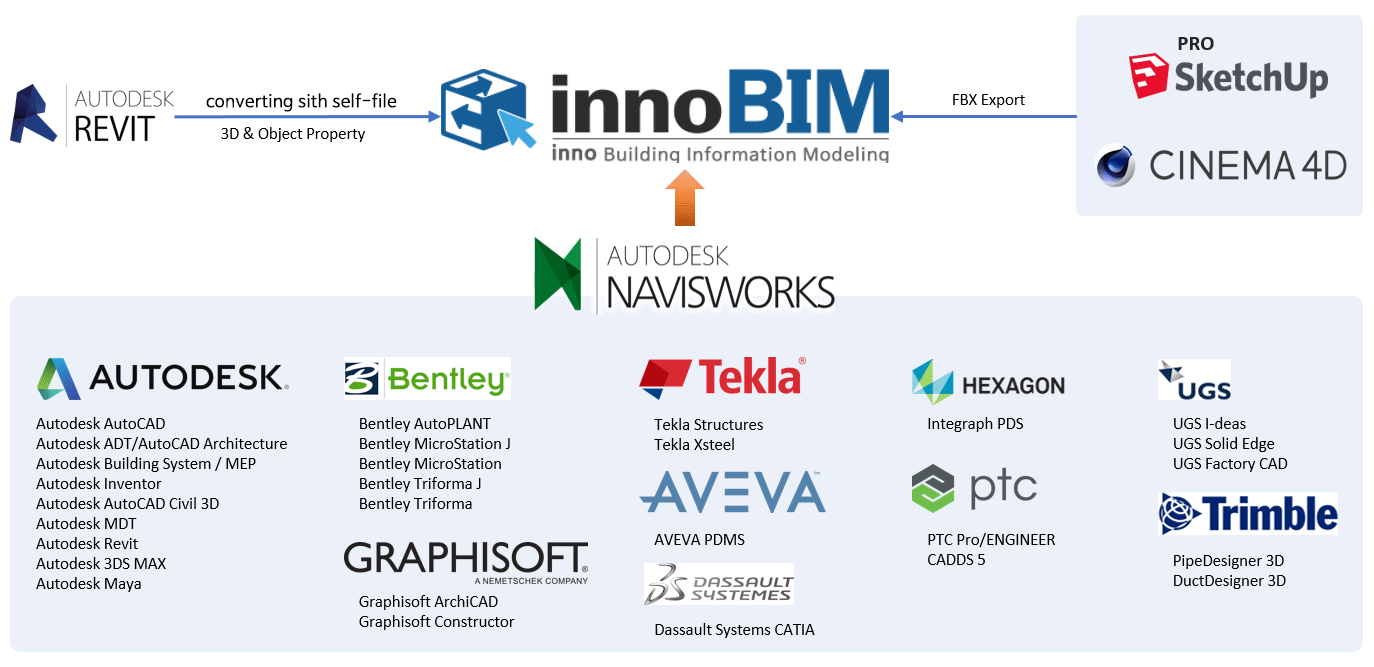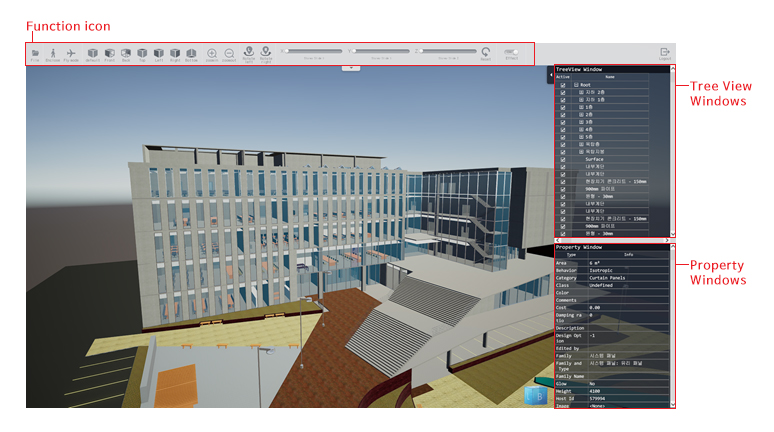 innoBIM™ Viewer Function
Loading Revit BIM 3D Model & Property
Loading large capacity BIM data
Support various devices (PC, MAC, Web, Mobile, Smart TV, etc.)
Support VR (Google Card Board 3D, HTC Vive, Oculus, Gear VR)
Space movement through avatar(Male, Female, Child, Wheelchair)
Story slide
Display BIM Object Property
3D View Cube Navigator
Zoom In / Out for BIM Data
Rotate Left / Right for BIM data
Focus (Top, Left, Right, Bottom)
Display Width and Height of selected object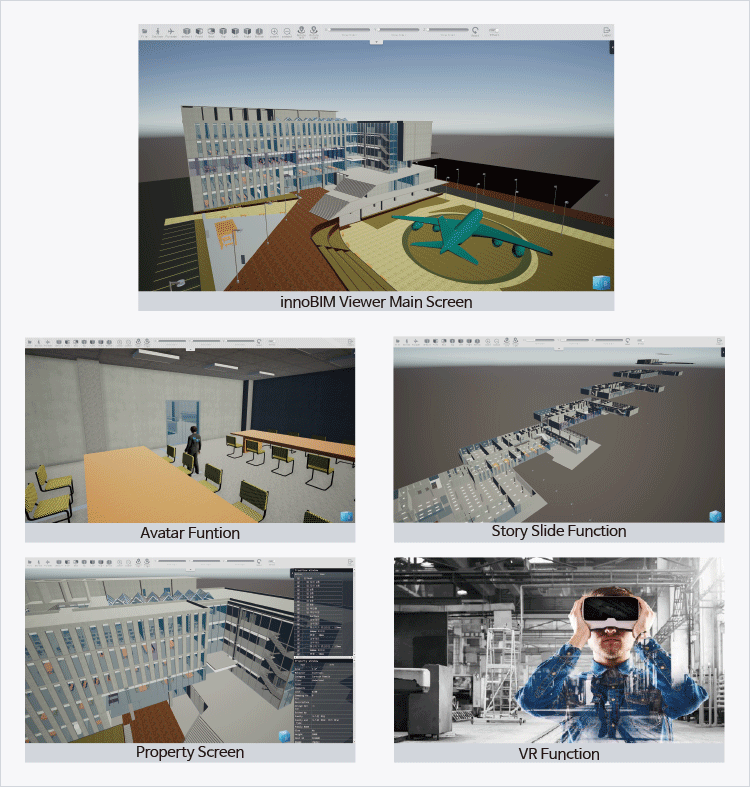 innoBIM™ Integrated Command Control
innoBIM™ Integrated Command Control solution matches and manages real-time information and BIM objects of facilities and sensors based on As Built BIM in buildings, airports, ports, plants, mines and ships.
It reduces property and human damage by prompt decision-making and rapid response to standard operating procedures.
Loading large capacity As Built BIM data
Mapping BIM object and facilities data
Display of operation status of equipment, sensor, power, air conditioning, security based on BIM data
Real-time monitoring via IP-Camera
Monitoring Network status
Monitoring and controlling power usage
Moving the camera to the object when an alarm occurs
Real-time data display at object selection
Display of standard operating procedure (SOP) when alarm occurs
History management of processing after alarm occurrence
Emergency SMS, e-mail
BIM-based history management of equipment and sensor
Report function for each situation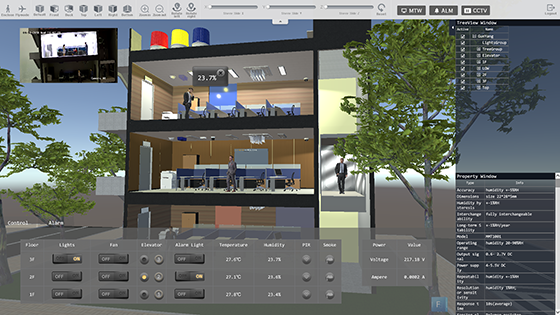 innoBIM™ Data Collection (innomac)
innoBIM™ Data Collection is a real-time data collection platform capable of setting alarm thresholds, message control (SMS, e-mail, IP-PBX connection), HMI configuration and external system integration, and it has more than 300 industrial protocols and device drivers that can reduce construction time and costs.
Built-in major industrial protocols (BackNet, KNX, Lon, ModBus, etc.)
Built-in over 300 device drivers (SIMENS, LS, GE, ABB, Schneider Electric, etc.)
Built-in HMI design tool for quick operation
Parameter setting method without coding can reduce construction time and cost
Open platform enables various 3th S / W interworking
Built-in SAP Driver enables ERP integration without coding
Built-inMS AZURE Cloud driver
Built-in Control of Message, SMS, e-mail and IP-PBX notification in case of alarm
Built-in Trend & Reporting tool
Can be linked with external database (MS SQL, Oracle etc.)
Various sensors and motors can be connected through IO Module
Using proven engines that are used in various industries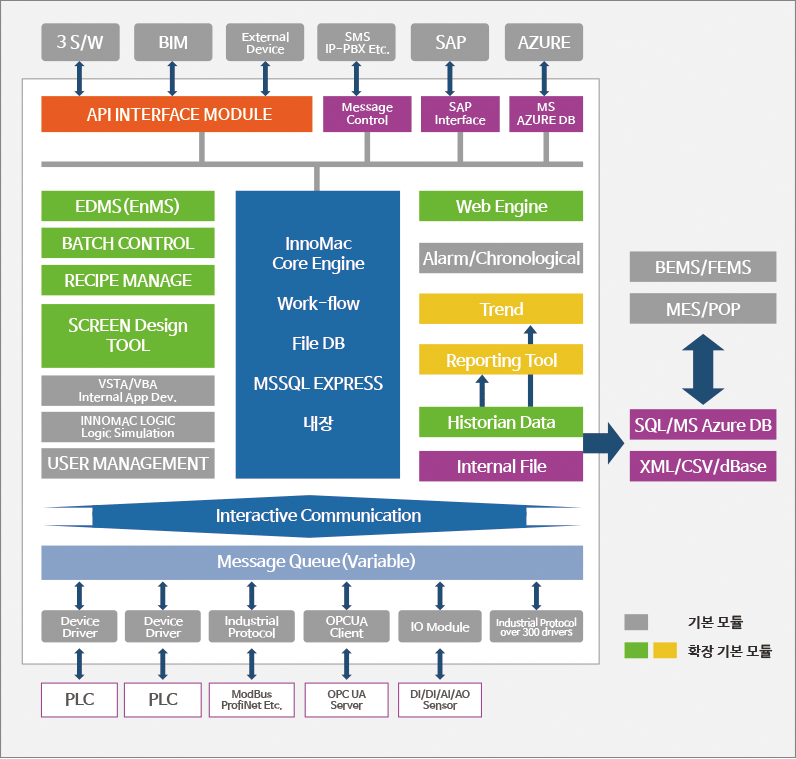 innoBIM™ AMS
innoBIM™ Asset Management reduces the time to search for specific asset or project information through real-time information of facilities and BIM-based visualization. In addition, automatic collection of facility information and automatic generation of work orders enables high reliability of data and systematic management of assets.
Predictive maintenance environment beyond preventive maintenance
By analyzing the condition information and real-time operation data of the facility, it is possible to take precautions before a failure occurs.
TCO-based asset management system
Build a TCO-based asset management system and provide diversified analysis reports by organizing the detailed cost items of the facilities (parts cost, labor cost, tool cost, outsourcing labor cost, outsourcing repair cost, etc.) and process formulation.
Improve facility ROI
It manages the usage and inventory status of equipment parts and optimizes facility utilization by guiding the time of re-ordering. And apply predictive and preventive maintenance together to reduce the loss of equipment efficiency caused by excessive preventive maintenance (TBM).
Intuitive Visibility for Facilities
Load BIM data to provide 3D visualization of the building model. Provides intuitive visibility into facilities to improve the efficiency of maintenance and execution processors.